Necklace and Bracelet Size Guide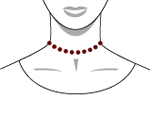 Collar 13–15 inches
Collars fit snugly around the middle of the neck. They are a must–have fashions tool. Most are very pliable and can be molded to fit your neck perfectly!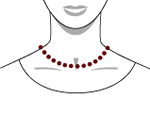 Chain 16 inches
16 inch length will fit most average woman high on the neck resting just above or on the collarbone. Will not fit everyone.
Chain 18 inches
18 inch length will fit comfortably on an average woman and lie on or just beneath the collarbone.

Chain 20 inches
20 inch length will be a little longer on an average woman. A comfortable choice for casual or business dress.
Chain 24 inches
24 inch length generally falls in the area of a woman's cleavage.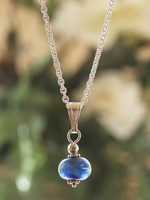 Bright Eyes Pendant with sterling silver chain

Bracelet Size Guide
For a measurement of where you would like the bracelet to rest, simply wrap a flexible sewing measure tape around your wrist or ankle and read the number where the ends overlap. This is your size.
Approximate Bracelet Sizing Chart

| Age | Bracelet Size |
| --- | --- |
| 2 – 5 years | 5½ inches |
| 6 – 8 years | 6 inches |
| 9 – 13 years | 6½ inches |
| Adult Small | 7 inches |
| Adult Medium | 7½ inches |
| Adult Large | 8 inches |
| Adult Extra Large | 8½ inches |
Tips for choosing a comfortable fit
If you prefer a snug, wrist–hugging fit, use the actual measured circumference of your wrist. If you like a draping, looser fit, increase your measurement by a ¼" or ½" depending on your taste. Also, keep in mind that larger–link or chunky bracelets may fit more tightly than thin bracelets.
Please note:
When using a fexible sewing measure tape, the whole numbers representing inches (1, 2, 3, etc.) are clearly labeled. The marks in between the whole numbers represent half inches (for example 7½"). The smaller dashes represent quarter inches (for example 7¾").